Dating is a source of stress in people's lives on par with changing jobs and holiday travel… with the in-laws. But humans crave connection, and so every night restaurants fill their tables for two with hopeful singles.
What exactly is this thing we call "dating?" Let's get all science-y and break it down into constituent parts. It involves the evaluation of a pool of candidates, applying a set of personally meaningful factors (like appearance, personality, or profession) to select a potential match, then embarking on a complex series of communications we call "getting to know someone." 

This time- and labor-intensive process is characterized by a notoriously high failure rate. Online dating services like Match.com and eHarmony grew out of the idea that the worst parts of dating could be automated, entrusted to an algorithm that simulates the evaluation and matchmaking steps.
But how much does automation help? Are machines actually better matchmakers than we are? To answer those questions, let's look at dating before and after the Internet, and at some of the ways advanced artificial intelligence is being developed to take automated matchmaking to a new, hands-off level.
Dating then, dating now
Before the Internet and social media, people were already outsourcing the first two steps in matchmaking, evaluation and selection. People relied on friends and family to shortcut the chaos of individual circumstances and the mysteries of human intuition. Friends set up friends on dates with people they believed would be compatible. Or two people might meet at a party or in the grocery store and get the urge to date based on a moment of intuition, short-cutting friend and family referrals entirely.
Today, online dating has become the second most popular way to meet people behind an introduction by mutual friends. Finding love is no longer defined by what's going on in our lives, or by our networks. Serendipity and instinct aren't as heavily relied on with the rise of online dating. People are leaning on the speed, vast pool of potential mates, and convenience of machine algorithms to find a mate.
The best dating sites use technology to weed out mismatches, saving people hours of searching through profiles and going on in-person dates. Compatibility signals that are easy for people to miss, such as sentiment in communication, response times, and length of profiles, are considered important to matchmaking algorithms. There are many signs that these equations work for a lot of people: 66% of online daters have been on an in-person date with someone they met through a dating site, 438 eHarmony users get married each day, and more than 1 million babies have been born from Match.com matches.
But not all algorithms are created equal and today's dating sites are only as good as the data they're given. Some studies have failed to show that online algorithms work better than traditional dating methods. Some systems are built around principles that aren't scientifically proven to be important in mate selection, like geolocation. Then there are the deliberate attempts to game the system: 22% of online daters have someone review and make changes to their profiles to improve their chances at a good match.
Amy Webb did a TED Talk about this idea that has been viewed more than 5 million times. She outsmarted the algorithm of an online dating site by deliberately catering her profile to the type of man she wanted to meet. And it worked: She went from the least popular to the most popular woman on the site, and married the man of her dreams.
The lesson here is that online dating might be more successful with more personalized data, moving past the one-size-fits all approach of many of today's online dating sites.
Matchmaking in the age of artificial intelligence
Let's look again at our breakdown of the dating process. Today's leading online dating sites focus on the evaluation and selection phases, handing off a potential match at the start of the communication phase. But developments in advanced AI and predictive analysis might change that.
One of the first attempts to apply advanced AI to the communication phase of dating is known as Bernie A.I. Described as a "personal matchmaker assistant," the mobile app works across online dating platforms to automate the evaluation and selection phases, but goes one step further by automatically messaging potential matches and handing off the match to the user only after a favorable response from the potential mate. It's AI meets facial recognition meets automated communication.
But the future of AI in dating might be far more sophisticated. One of the shortcomings of online dating sites is honesty: 54% of online daters report that a potential match seriously misrepresented themselves on their profile. The same predictive analysis that underlies product recommendation engines could be applied to matchmaking, moving online dating beyond user-generated profiles to include data like streaming music playlists, shopping histories, and the sentiment of a person's social shares.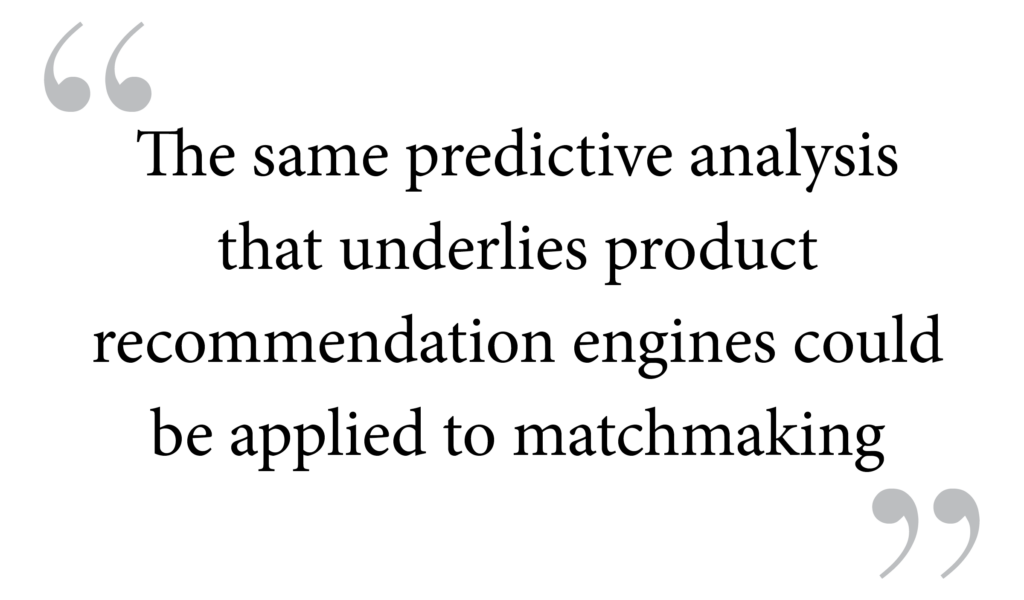 As with many new implementations of artificial intelligence, like the use of AI in the classroom, the benefits of AI likely come with a trade-off: AI might reduce the stress and time dating demands, but at the loss of those leaps of human intuition that lead to better outcomes than programmatic approaches. AI is already entering the "getting to know you" phase of dating and is likely to make further inroads into completely automating matchmaking. But how much is too much? Isn't dating as much about getting to know ourselves as it is about getting to know another person? Isn't there value in imperfection and inefficiency?
For the time being, these questions will remain unanswered. Serendipity and technology will co-exist in the realm of dating. After all, today's two-dimensional algorithms can't predict how a new couple will deal with three-dimensional challenges in their future.
Decision framework: AI in online dating?
Forming an opinion on whether AI should play a role in online dating is a complicated process. Here are some highlights to get you thinking.