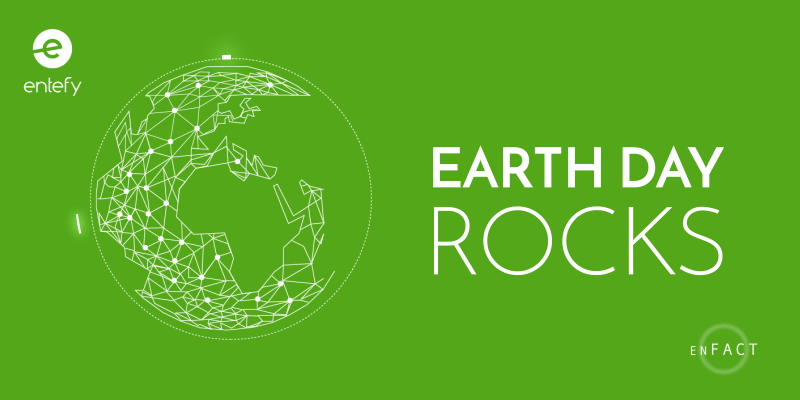 Entefy sends green wishes to everyone celebrating Earth Day this weekend. Since the first Earth Day in 1970, the event has grown to include 1 billion people in 195 countries. 
Environmental problems can seem so big compared to the scale of our day-to-day lives. Climate change. Biodiversity. Pollution. But it's all a matter of perspective. Because when a lot of people act in concert, change can happen at the global scale. That is, after all, how Earth Day came about.
So in that spirit, here are some specific actions you can take today to contribute to a healthier, greener Earth.
Waste is accumulating in the oceans. The World Economic Forum estimates that, pound for pound, there will be more plastic waste in the oceans than fish by 2050. Even more concerning, there's no practical solution on the horizon. But we can reduce the rate this pollution accumulates with new behaviors. Stop purchasing single-use plastic drink containers. Refuse throwaway plasticware at restaurants. And, of course, recycle. Read about 7 ways to reduce ocean plastic pollution here.
Global temperatures are rising. The politics of climate change are controversial and wrapped in partisanship. But we can all agree that using less energy leads to slower depletion of natural resources. There are a lot of easy-to-do actions that will reduce your energy use. Use compact fluorescent lightbulbs. Car pool and use public transit. Lower your thermostat in winter. See this excellent list of 10 actions you can take today.
Biodiversity is at risk. Life on Earth is defined by intricate connections between species. So reports that human activity has touched off a global extinction event are deeply troubling. With such a massive, global problem, what's to be done? Again the logic holds that small changes in behavior can have outsized impact. Start with understanding how deforestation impacts habitats. And make biodiversity-friendly decisions when traveling and dining out.
It's easy to get caught up in numbers when talking about the environment. But there's only one number that really matters: 1. Because there's only 1 Earth, we all need to treat her kindly. And we only get 1 shot at preserving a healthy, green environment for life in all its wondrous forms.
Entefy's enFacts are illuminating nuggets of information about the intersection of communications, artificial intelligence, security and cyber privacy, and the Internet of Things. Have an idea for an enFact? We would love to hear from you.